Посмотреть по параметру Сеть
Отображается слайд {CURRENT_SLIDE} из {TOTAL_SLIDES} - Посмотреть по параметру Сеть
Посмотреть по параметру Объем памяти
About Apple iPhone 6
Showing slide {CURRENT_SLIDE} of {TOTAL_SLIDES}
Bigger than bigger.

iPhone 6 isn't simply bigger — it's better in every way. Larger, yet dramatically thinner. More powerful, but remarkably power efficient. With a smooth metal surface that seamlessly meets the Retina HD display.

Design.

The first thing you notice when you hold iPhone 6 is how great it feels in your hand. The cover glass curves down around the sides to meet the anodized aluminum enclosure in a remarkable, simplified design.

Streamlined. Inside and out.

The iPhone has a larger design which doesn't feel burdensome. It has a narrow design and is packed with powerful technologies inside with smaller chips and thinner batteries.

Retina HD display.

With innovations that deliver higher contrast, dual‑domain pixels for more accurate color at wider viewing angles, and an improved polarizer, these are among the thinnest Multi‑Touch displays from Apple.
eBay has provided more information about this product above and is not affiliated with or endorsed by Apple.
Price Trends
Apple iPhone 6 - Price New and Used
New Price*
from $166 to $270
Used Price*
from $91 to $107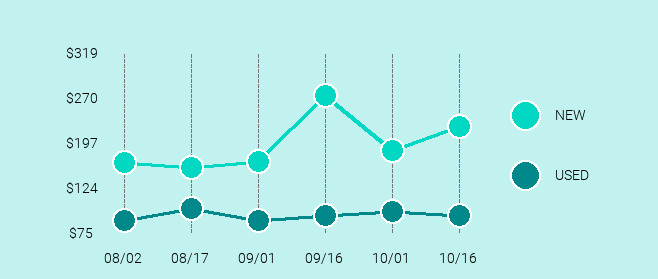 *The average sold price is calculated based on "Buy It Now" items sold within the 90 day period described above (excluding shipping and handling). Each interval represents a 15 day period. There is no guarantee that items will always be listed at a price within the provided range.
Compare Similar Models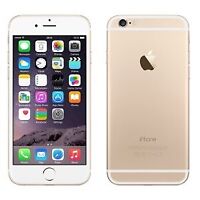 Apple iPhone 6
Display Resolution
750x1334
Operating System
iOS 8, upgradeable to 12.1
Camera (Rear/Front)
8/1.2 MP
Dimensions
5.44 x 2.64 x 0.27 inches
Internal Memory
16/32/64/128 GB
Processor
Dual-core 1.4 GHz
Battery Capacity
Up to 14 hours 3G talk time (1810 mAh)
Showing slide {CURRENT_SLIDE} of {TOTAL_SLIDES}
Top 5 High ratings
Top 5 Low ratings
iPhone 6, Touch ID, Wireless Charging

As a diehard Android user, I have tried iPhones over the years and wasn't too impressed. But I bought this iPhone 6 on eBay and now, suddenly, I get the value of (newer) iPhones! Like many people, I saw the "Touch ID" as a gimmick. And perhaps a little intrusive. But I decided to fully set up this iPhone 6 so I set up Touch ID and set up all of my bank accounts and credit cards. NOW it makes sense! I can skip the passwords and log in with Touch ID. And I can use Touch ID to authenticate ApplePay purchases. Too cool! And of course this is on top of the fact that the iPhone is a great hardware device with an excellent camera! Now I'm almost tempted to look at the iPhone X, except... very stupid to make it out of glass when acrylic would have accomplished the same purpose without making it so fragile. Btw, the seller included a Sunburst wireless charger. Very cool! It includes a case for the phone which plugs in to the charging port. And the charger base chargest up like an extra battery so I can charge the phone even when I'm not near power. I feel like I hit a home run on this purchase!

Verified purchase: Yes

Apple iPhone 6 128Gb

I am a big iPhone fan. I love how they hold their value over time. This phone was the perfect next step for me after finishing college with my 2013 16Gb iPhone 5c. After not having the fingerprint scanner all that time, it was nice to finally get one. Having seemingly endless 128Gb of storage space for pictures, videos, music, and apps isn't that bad either. I can't get enough of the larger 4.7" display!!! The old 3.5" iPhone display was small and beat to death again and again. I still wonder why they thought the SE would be anything but a flop. Even though it's cheaper for exactly this reason and has newer internals than 6, you just can't beat the larger screen., Although this phone is older, it runs the current iOS and looks just like all of the newer phones. I have had no problems with it. The preowned phone came with a newer battery installed under apples handy discounted replacement program. It turned off a few times with 20% power left, but has since been able to run low with no issues. Luckily apples program runs through December 2018 as it is already at 90% original battery life., , Maybe in another year or two I will get the newer 6S or 7 plus and sell off this phone having only spent as little as $100 or less for two years of unlocked phone usage. You can't beat brand new $15 otterbox and lifeproof cases for the older phones either., Who needs a monthly phone bill where you agree to slowly pay off a new phone for years, only to get behind the times a year later when the newest one comes out?, Beware the junk though. Only buy from the best sellers.

Verified purchase: Yes

Bought one for my Mother does everthing I need almost as good as my iPhone 7.

My first iPhone was a 6s+ and now a 7 and I could get along just fine with one of these Sixes. 3d touch can be a pain in the butt, for example. Now me Ma is a tough one to give any tech to. She doesn't want to listen or read or watch a YouTube vid to learn how to use a smart phone, rather just wait for me to stop talking so she can toss out a failed attempt at humor. No problem, until a week later when I get the stink eye and shrilly voice saying that this or that doesn't work. Head meets wall for me with attempts to teach her on several android phones and two Windows phones, all of them simpler, main stream models, you know, not chock full of top end tech that I don't even use, to no avail. She plays with this iPhone and is learning how to use it like crazy! I was always thinking big screen for her 70+ year old eyes, but the 4.7 is fine. The iPhone is successful for a reason, mainly everything works and does it simply yet with elegance. The 6, 6s and 7 seem small at first, to me anyway, but actually is about perfect size compromise for usage and putting in pockets. I remember complaining that the 6s+ was too big, and it is, try putting one in a breast pocket or for me, ACUs, The 4.7s just fit ands and pockets better. But what about the 7 with that quad core fusion this and that super fast processor making the 6 obsolete and slow? Not much in real world use, for me anyway. Takes a little more time to start, sure, butt how many times do you shut off an iPhone? Apps aren't that much slower either, now bench marking scores are a different story, but I'd hate to be the one that uses their cell phone to the level of a benchmark run all the time, is that even possible? So as stated prior, I could easily give up my 7, and contract too, for a 6. Don't like the 3d touch anyway.

Verified purchase: Yes

Clean design, slippery in hand.

The look is elegant, the operating system works well (though a couple functions require one or two 'extra' steps, such as if I want to call or text someone from my Android phone, I push contact and their name then choose phone or message. With the iphone I push phone, then contacts, then the alphabet is super small and super thin (I often open a contact instead of going to the correct alphabet letter, which is silly as there is an acre of open space on the large screen of the iphone 6 plus), then the contact's name, then the phone or message button. Two extra steps for every call. Also, good heavens, the apple map app is HORRIBLE, sending you on a zig-zag path over your real route up to 6 times instead of literally going straight down the main thoroughfare. Download and use Google Maps and save yourself hours of frustration on the road. The body of the iphone 6 plus (I have silver) looks great! But it is really slippery in the hand. I now use a clear jelly case for $20 from Best Buy, which works well and retains the beauty of the design. This is my first iphone, following Androids from several brands, most recently a BLU Studio Energy. I've only had the iphone 2 weeks. So far, I prefer the Android operating system, but they're very close. I just had hoped for a used phone at 2 times the price of a new BLU I would be surprised with how well the iphone operates, and I'm not. At this point I'm not aware of why they are literally 8 times more expensive than the BLU line when new. If they were comparable prices, I'd be quite satisfied.

Verified purchase: Yes

My 1st iPhone…..and I Love It!

Let me start off by saying that every smart phone I have had was a droid, even though I have several apple mac computers. My wife has had her iPhone for about a year now and she just likes it. I really liked my motorola droids. However, my latest droid was acting really sluggish, slow on camera shutter, and just different anomalies even after factory resets. (It is over 3 years old). But I did not want to change. I knew the android system and felt comfortable., , I spent like a month off and on researching smart phones. Not too big, yet not too small. Fast and easy to use with a great camera. It boiled down to either a Samsung S5 (removable battery and SD card and it is water resistant), or the iPhone 6., , My wife said get the iPhone then I could "discover" more ways of using the iPhone and share with her. So I reluctantly made the switch., , Here is my opinion: The software is not "intuitive" like so many have said. I think features are awkward and you must know how to use it. But once you do, it is easy and fast!, , The screen is absolutely clear and natural looking. I can even see it in daylight outside. The camera is spectacular and also fast. Videos fast and clear. The controls are easy to reach, even one handed. Email is fast and very easy to scroll through. Web access is fast, and I even use and like "Siri". It is just loaded with features I just really like., , And the phone. Yes the phone. I make and receive calls easily and they are clear. The list of pros is long. My battery lasts me well into the evening and I have been using the heck out of it to get use to it., , There are some things I do not care for such as when turning the screen off and then realizing I forgot to look at something else, I have to go through the passcode again. There may be a way to lengthen the time delay, just haven't found it yet. And not being able to change any settings while in an app like a droid, you have to go to the phone settings and access the specific app you want to modify. It is just getting used to the system. And I hate iTunes, but like the rest of the phone, I just need to learn how to use it., , In conclusion, I am now a convert! I love my iPhone. I can't believe I am saying that.

Verified purchase: Yes