About Apple iPhone 6 Plus
Showing slide {CURRENT_SLIDE} of {TOTAL_SLIDES}
Clear view on a full HD display.

Go easy on your eyes with 5.5 inches of Retina HD display on the iPhone 6 Plus. Its dual-domain pixels give wide viewing angles.

Solid camera for day to day use.

Shoot clear photos with an 8MP iSight camera, bigger sensor, (1.5 micron pixels) and 2.2 aperture.

Add flair to your videos.

Record events as they happen in slow motion. The iPhone 6 Plus features Slo-mo video at 120fps or 240fps options.

Make face-to-face phone calls.

Show up when you make phone calls! FaceTime family or your friends via FaceTime HD Camera. It runs at 1.2MP and streams 720p HD video recording.
eBay has provided more information about this product above and is not affiliated with or endorsed by Apple.
Price Trends
Apple iPhone 6 Plus - Price New and Used
New Price*
from $237 to $377
Used Price*
from $133 to $157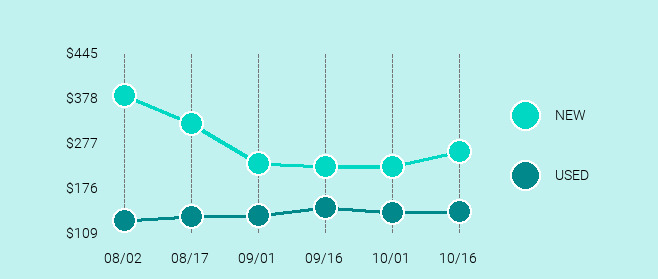 *The average sold price is calculated based on "Buy It Now" items sold within the 90 day period described above (excluding shipping and handling). Each interval represents a 15 day period. There is no guarantee that items will always be listed at a price within the provided range.
Compare Similar Models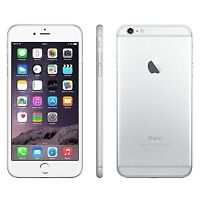 Apple iPhone 6 Plus
Display Resolution
1080x1920
Operating System
iOS 8, upgradeable to 12.1
Camera (Rear/Front)
8/1.2 MP
Dimensions
6.22 x 3.06 x 0.28 inches
Internal Memory
16/64/128 GB
Processor
Dual-core 1.4 GHz
Battery Capacity
Up to 24 hours 3G talk time (2915 mAh)
Showing slide {CURRENT_SLIDE} of {TOTAL_SLIDES}
Top 5 High ratings
Top 5 Low ratings
Review of Used iPhone 6 Plus

So far, I really like the phone. It has some really good battery life. It's got a lot more storage than my last which I love! It's got an amazing camera. This is a used iPhone I have purchased and so far I like it. I've had it for 3 days and fell in love with it the minute I opened it up. The vibration is definitely different than my previous iPhone 6. Not sure if that's supposed to be different or not. Bigger screen than a 6. The phone works at the fast pace I need it to, this particular phone itself has had a few problems as to giving me false battery percentages at low levels while charging, as well as not showing me the correct battery percentage when charging and having to restart the phone to get the charging symbol to go away even when not plugged in and to get a correct reading of the battery percentage. In the three to four days I've had this particular phone it's only done this once but so far I am very pleased.

Verified purchase: Yes

Awesome..Especially with new iOS update

I didn't know what my life was missing until I finally switched from my Nexus 5, of two years, to the iPhone 6 Plus. Not only was I able to find it on eBay at an amazingly low price for 128GB, but the features on this phone are phenomenal., , I still love my Android, but I'm loving the iPhone too. With my Nexus 5, I was hard on it, and I mean HARD. I'd throw it onto surfaces, drop it (sometimes down flights of stairs), etc. Luckily I had a Tech Armor ballistic glass screen and Spigen Slim armor case on it, so my Nexus didn't have one scratch or any functionality issues, so it is still in excellent condition. The battery was noticeably not holding as good of a charge as it used to, so I decided that it was time to make the switch. I've seen friends drop their iPhone from 2 feet onto carpet and the screen was destroyed, so I'm a bit paranoid about destroying this phone, but I plan on getting Tech Armor and Spigen again, as well as being more of a gentle soul., , The built in features like Night Shift, which turns the blue light on your phone to amber light, which is actually way better for your eyes, at night is great. It also has Bed Time, which tells you when you should be sleeping every night to get the amount of desired sleep. Those are only two features on the phone that don't require external applications and work beautifully., , The sound and camera quality are also better. I use Bose earphones and the sound is a little crisper and the iPhone allows the sound to go up way higher than on my Nexus., , I've only had this phone for a few days now, so I'm still getting used to it/discovering new features every single day, but so far, so good.

Verified purchase: Yes

Keep coming back to iOS

Despite trying a few Android phones, I'm still most at ease with the iOS' interface. However, they still haven't fixed the home screen icon layout, you have to do a little mental Sudoku when organizing your icons if you want them to appear exactly the way you want. This is something Android wins at., , One really, really dumb design is the volume and power button positions. They're parallel / directly opposite to each other so you have to re-position your fingers depending on your handedness. I wish they went back to the top down button., , I'm not a power user, so the CPU and GPU specs don't mean anything to me, but they bench relatively well if you read the various tech websites., , The screen is excellent; vibrant, clear, and gorgeous. Apple still retains that premium feel and sleek aesthetics. Of course, you overpay for this, but to me, it's worth it. A good Android competitor is the Sony C5 Ultra at half to a third of the cost, but you'll have to deal with caseback flexing a little and non-international bandwidths. Sony simply doesn't make a C5 Ultra model that encompasses all the major U.S. and Asian frequencies, whereas the iPhone does.

Verified purchase: Yes

A Big Change, literally and figuratively.

So far so good with transitioning from my old iPhone 5 to the 6 Plus. I thought the larger size would be a hindrance, but honestly, I adapted to it immediately, and I have quite small hands! I love the larger screen size, as my primary use for the phone is to create and process photographic images and video. (Because who talks on the phone anymore anyway?) Because of this usage (I am a pro photographer and I use this tool a lot in my work, even though I also use a pro DSLR camera system, etc) I absolutely had to buy the 128GB version of the phone and it's great to not have to dump images onto my laptop constantly, as I had to do with my old 16GB 5., , First thing I noticed was the substantially longer battery life. What a relief! I can go all day easily on an overnight charge. Granted, I don't use it to watch movies or much other than short YouTube posts, so I may not be the average user, but the charge goes so much further than my old device, I can't believe I lived like I did with my old phone., , I bought a waterproof/dustproof case made by Seidio (got good reviews on a site that seems to specialize in cases only...figure that!) and that adds to the bulk and makes hearing calls without ear buds kind of hilarious (as in all sound is pretty muffled and hard to hear if you're in a normal public place) but small tradeoff for not ruining a $500 device with no warranty (I've dropped previous iPhones into the toilet, of course, my dog's water bowl, and a sink full of dishwater and destroyed all of them.), , Anyway, I'm still getting used to the specs of the new device...the camera on this rules and I love the addition of the slow motion video. I am teaching courses in iPhone photography on this device and so far I couldn't be happier. (Well, maybe down the road when the 7's come out....we'll see.), , Touch ID is nice feature instead of entering a passcode constantly., , I'm not a gear head, so this review isn't overly technical. I'm also not a fanatic Apple devotee and I know there are lots of other devices out there that are worthy and probably a better value, but for what I do right now, the iPhone 6 Plus is the best option, even if it is a bit pricey (why I opted to buy used on eBay instead of new through my service provider, etc.)

Verified purchase: Yes

Best way to combine you're need for an ipad and phone all in one.

It's an excellent compromised between having a phone and ipad mini. If you have the ability to get an iphone 6, and an ipad mini...it would be a better option imo....BUT the plus is a great way to have an ipadish feel at all times., , The phone itself is to big...IT IS! anyone who tells ya otherwise has gotten use to it and dosen't want to admit it's to big.... You cannot comfortable use the phone with one hand to say...check a text or make a phone call. it's just to big and you doing a balancing act while doing one handed things. BUT this is what you get when you want a Fablet and not a phone., , I just don't want people to be twisted...this is a FABLET, not a small sleek phone., , I had an iphone 5 and ipad mini. Loved the combo...but since I've gotten the plus I haven't opened my ipad mini..it's just more convenient using the phone since my ipad is wifi only., , So my advise is if you want a phone, and use one hand a lot and can wait till you're around wifi to do things like...netflix, hulu, etc...just get a regular 6 and back it up with a mini.., , if you don't want to juggle 2 items, and just juggle 1 big phone..go with the plus.

Verified purchase: Yes